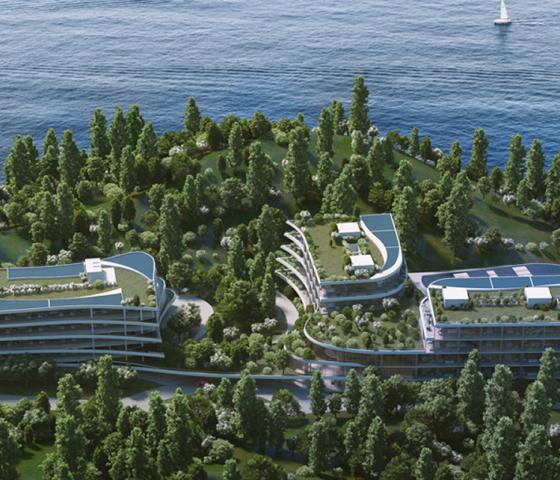 23 Oct
Project/Operator:  TBA / created by AMAN
Client: Adriatic Properties DOO
Location: Sveti Stefan, Montenegro
Stage: Construction Design
Keys: 60 Rooms and 66 Apartments
Legal Advisors: Law Office Markogiannis & Associates
Architecture: Elastic Architects
Interior Design: Yabu and Pushelberg
GENERAL DESCRIPTION
"A country of miracles, a treasure chest full of most wonderful treasures, as if, as the legend says, the God's bag was really torn apart when he was giving gifts of nature, and wonderful things including the mountains and other beauties fell out of it just above Montenegro"
The concept is affected by the disarming beauty of the area's natural landscape and the incorporation of the architectural design within it.
The buildings follow the bold lines and curves of the nearby mountains and sea coastline and smoothly integrated into the space, creating a sense of peace and tranquility to visitors.
The Designers, created two distinct areas / reference sites on the landscape, which they delimit the structured and unstructured environment with ambiguous limits. This creates a combination of transparency and depth while a connection between the forest (which also crosses the plot) and the activities is affected.
The built environment offers leisure, walk through almost every area of the plot, while plantation is visible in almost all areas of the plot, including balconies, common areas etc.
The apartment's buildings follow the mountain form with the continuous recesses "sculptured" on the building's frame, while the hotel represents the sea. 
Between these two volumes, a bay of trees is created, allowing the physical and optical connection between the two hills and roads. 
The creation of a water bay, located at the borders of the plot, affront the residences, allows the optical connection of the sea view with the water feature and luxury pool. The water bay works as a reference to the beautiful Adriatic Sea of Montenegro.
The buildings' curves are inspired by the contour lines of a topographic survey, on which trees and greenery have been planted. 
The hotel's architectural concept, simulates the water, through the curves and pools on its balconies. The architectural language is similar to the one used for the residences but in reverse, the water element is simulated by the building rather than the bay and the forest element is simulated by the bay rather than the building.